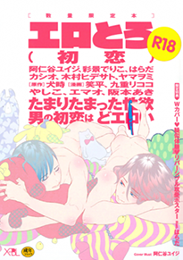 Associated Names: Sorry for Falling in Love
Author: Aniya Yuiji | 阿仁谷ユイジ
Genre: Yaoi.
Lenght: Oneshot
Related Series: None
Original Publisher: Erotoro 18 Hatsukoi (Libre Shuppan)
English Publisher: None
Year: 2015
Summary: A couple that can't stop lying to eachother, although this seems to work pretty well for them. Will true love bloom between these two men? A Danshi Meiro related story.
DOWNLOAD