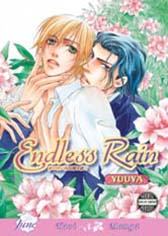 Título Alternativo: Oto na Nai Ame wa Furitsuzuku, The Rain Without Sound Continues To Fall
Autor: Yuuya
Artista: Yuuya
Género: Yaoi
Consta de: 1 tomo
Serie(s) Relacionada(s): Ninguna
Editorial de Origen: Ookura Shuppan, Juné
Editorial Hispana: ninguna
Año Publicación: 2006
Reseña: Akira vivía felizmente con su madre y su hermano menor cuando ocurrió una tragedia. A raíz de la muerte de su madre, el padre de Akira, siempre ausente, se niega a aparecer en el funeral – después de todo, ella era una simple amante, mientras él es la cabeza de la poderosa Corporación Kasuga. En cambio, el padre de Akira envía a Hyougami, su mano derecha, para llevarse a los dos hijos que nunca antes ha visto.
Al ser arrastrado junto con su hermano a vivir en la finca de Kasuga, Akira intenta liberarse de la tiranía de su padre y de los avances de Hyougami, pero sus esfuerzos se ven frustrados debido al dinero y al poder de la familia Kasuga. Pronto, Akira se da cuenta de que su bienestar depende de los caprichos de Hyougami, este hombre que trabaja para su padre está acostumbrado conseguir lo que quiere, y Akira es lo primero en la lista de Hyougami.
DESCARGA