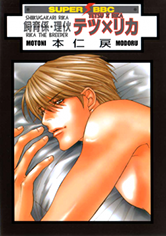 Título Alternativo: Ninguno
Mangaka: MOTONI Modoru
Género: Yaoi
Tomos: 1
Serie(s) Relacionada(s): Rika the Breeder (precuela)
Editorial de Origen: Biblos
Editorial Hispana: ninguna
Año Publicación: 2004
Traducción al inglés de: Neptise Scans (a quien agradecemos su autorización)
Reseña: Una precuela de Rika the Breeder que se centra en el hermano mayor de Hiro, Tetsu.
Tetsu utiliza su carisma para controlar toda la escuela.
Su relación con su hermano menor, Hiro, se ha tensado mucho más desde que Tetsu refrenó su amor y la lujuria que alguna vez forzó en Hiro. Por aquel mismo tiempo, Tetsu conoce a Rika, un chico que emana el mismo encanto que él.
Entonces, Tetsu decide hacer de su hermano, su único "santuario" y en su lugar, elige a Rika como compañía, mientras avanza por el camino a su propia destrucción.
DESCARGA: