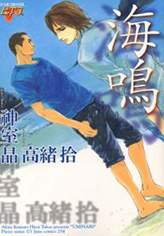 Título Alternativo: The Sound of the Sea
Autor: TAKAO Hiroi
Artista: KAMURO Akira
Género: Drama, Yaoi
Tomos: 1
Serie relacionada(s): Himitsu no Kuchizuke (historia paralela)
Editorial de Origen: MagazineMagazine
Editorial Hispana: Ninguna
Año Publicación: 2007
En joint con: Yaoi Desire
Reseña:
1) El sonido del mar
Con el sonido del mar en el fondo, acompañado de un estilo literario abrumador, llega una agridulce historia de amor.
El estudiante de Preparatoria, Shougo, vive en una ciudad portuaria rural. En el instante en que conoce a su profesor de arte, Asano, quien fue transferido ahí desde la ciudad, Shougo se ve controlado por emociones indescriptiblemente intensas. ¡Incluso se masturba mientras sueña en violar a Asano!
2) Luna de la decimosexta noche
3) Llave de repuesto
4) Último beso
5) 3:00 am
DESCARGA: