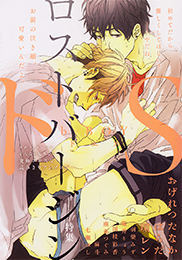 Associated Names: Chii-chan & Eno-kun | ちーちゃんとエノくん
Author: OGERETSU Tanaka | おげれつたなか
Genre: Yaoi
Lenght: Oneshot
Related Series: None
Original Publisher: Libre Shuppan (B-Boy|Do-S)
English Publisher: None.
Year: 2014.
*Note on this version: Completely decensored by Seraphic Deviltry. Many thanks to Yuki for the translation.
*Note on Translation: Characters talk in Kansai dialect (keigo) a pretty particular dialect in Japan, we decided to leave it in normal English for a better understanding.
Joint: Koyukiya
Download: