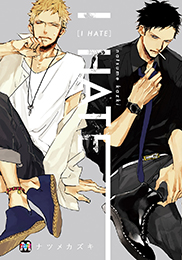 Associated Names: None.
Author: Natsume Kazuki | 夏目カズキ
Genre: Yaoi
Lenght: 1 volume
Related Series: None.
Original Publisher: Cab Magazine | Tokyo Mangasha.
English Publisher: None.
Year: 2015.
Joint: U-zai | Himawari Scans
Summary: «The only taste you need to know, is mine.» A chance reunion after 10 years for Hiro and Kiriya. They were «kiss-friends» only during their last summer of high school. A memory from the past Hiro wants to forget. That, however, even after turning 27, kept binding him to the point he can't date anyone. Kiriya on the other hand, even after the reunion kept his cool but… These cool men intense feelings are welling up! The great newcomer, Natsume Kazuki's debut comic!
DOWNLOAD