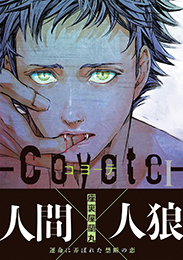 Associated Names: コヨーテ
Author: Zariya Ranmaru | 座裏屋蘭丸
Genre: Yaoi
Lenght: 2 volumes (ongoing).
Related Series: None.
Original Publisher: Daria (Frontier Works).
English Publisher: None.
Year: 2016.
Special Thanks: Nagareboshi
Summary: Mingling in the human world, wolves that hide in the shadows…This new series by Zariya Ranmaru tells us the story of Lili (Coyote), a mysterious boy and Marlene, a piano player who's eager to know what's hidden behind those amber eyes.
DOWNLOAD
Volume 01  [Tankoubon Version] (licensed)
Volume 02 Extras 01 | 02