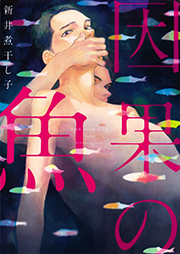 Associated Names:  Fish Tied with Fate | Karmic Fish | 因果の魚
Author: Arai NIBOSHIKO | 新井煮干し子 | AKA Noda AYAKO
Genre: Soft BL
Lenght: 1 volume (complete)
Related Series: None
Original Publisher: Shodensha (OnBlue)
English Publisher: None
Year: 2013
Note: Do no re-translate this piece into Spanish. All other languages, are free to do so.
Summary: Ryouichi did anything I told him to. Cousins and childhood friends, Issei and Ryouichi. Between bossy heir of a company president Issei and gloomy, always obedient Ryouichi arose a warped master-slave relationship. Letting the adored Issei conquer him, young Ryouichi gave his body over to pleasure. However, a few years later, with these two working at the same company, has the relationship between these two started to change?
DOWNLOAD