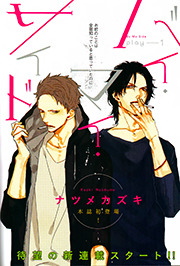 Título Alternativo: 
Ninguno.
Mangaka:
 Natsume Kazuki | 夏目カズキ
Género:
 Yaoi
Consta de:
 5 capítulos (en progreso)
Serie(s) Relacionada(s):
 Ninguna
Editorial de Origen:
 Cheri+
Editorial Hispana:
 Ninguna
Año Publicación:
 2016
Traducido al Inglés:
 Seraphic Deviltry & Uzai
Reseña:
 El amor entre dos hombres que inicia al ver a un amigo masturbándose.
DESCARGA:
Capítulo 01 / Capítulo 2 / Capítulo 2.5 / Capítulo 3 / Capítulo 04 / Capítulo 05 / Extra Booklet
Active Projects

No matter how much I want to monopolize you, my wish will never be fulfilled… Famous illustrator Amou and the super-popular model José live together. Amou loves the beautiful José, and even though José sleeps with other men, and has nights when he doesn't come home, Amou accepts it meekly, as if he were José's servant. "I'd rather love than be loved." That's the kind of man Amou is. However, knowing that José's true love is only for himself, Amou's true motivation is… An artist who doesn't wish to be love and a supermodel who wants to have a love relationship of equals. An exceedingly pure love story.

It's the heyday of the alpha. Alphas have all of the riches and all of the power, which they indulge in without regard for anyone else.They look down on the obsequious omegas and betas… making waves in this inequitable society is landowner Maurice, with his shiny blond hair and skin like porcelain. He's the beautiful, smart, noble-minded son of the prestigious house of Seychelle. He's close with his personal attendant, Simon, but since he's the family heir, his fate of marrying an omega and having his own heirs is inescapable. Gender, status, and fate all set themselves against love.

Once upon a time in a distant country… Viscount Adam is designated as bodyguard, a countermeasure to a threatening letter addressed to the country's Judicial Lord, a man of great and invaluable importance. However, the Viscount is also an incredibly handsome man, able to make both men and women fall for his charm. But now this lady-killer has fallen in love with the straight-laced Judicial Lord's nephew Joel?! In between the thrilling development of these two, love appears between the soon-to-be-King of another country and his companion. Romance lurks just around the corner…

A guy accidentally witnesses his friend masturbating. This shouldn't really affect their relationship any, right? After all, men see such things all the time; it's just an amusing incident, to be laughed over once the embarrassment has worn off. Or maybe...