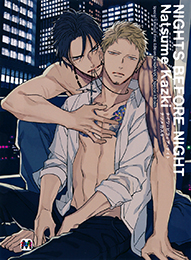 Associated Names: None.
Author: Natsume Kazuki | 夏目カズキ
Genre: Yaoi
Length: 1 volume
Related Series: MODS (main story)
Original Publisher: Cab
English Publisher: None.
Year: 2017
Note: Do no re-translate this piece into Spanish. All other languages, are free to do so.
Summary: Haru's been struggling Shigure's dead for so long that he has forgotten how being in love feels. May Yukitaka, Shigure's younger brother make Haru find love again? Haru's side-story from MODS universe.
DOWNLOAD