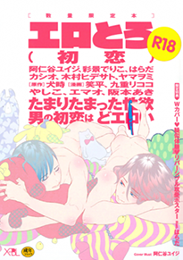 Associated Names: None
Author: Various
Genre: Yaoi.
Lenght: 1 volume
Related Series: Various
Original Publisher: Erotoro 18 Hatsukoi (Libre Shuppan)
English Publisher: None
Year: 2015
Rule: Do no re-translate this piece into Spanish, our group is in charge of that already. All other languages, are free to do so.
Summary: 
Sorry for Falling in Love | Koi ni Ochite Gomennasai (Standard Version) or High Quality version by Aniya Yuiji | 阿仁谷ユイジ:  A couple that can't stop lying to each other, although this seems to work pretty well for them. Will true love bloom between these two men? A Danshi Meiro related story.
Afureru Nureru | Wetness Overflow by Yashiko | やしこ: Yousuke kissed his best friend Kazuichi when they were just kids. Years later he decides to confess, but things get complicated when Kazuichi starts teasing him.