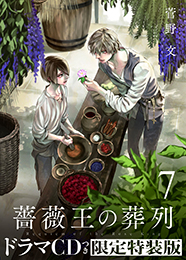 Título Alternativo: Requiem of the Rose King | Requiem del Rey de Las Rosas
Mangaka: Aya Kanno | 菅野文
Género: Drama, Histórico, Josei, Identidad de Género, Personajes Intersexo, Bélico, Intrigas Palaciegas.
Consta de: 10 tomos (activo)
Serie(s) Relacionada(s): Ninguna
Editorial de Origen: Akita Shoten | Princess Magazine
Editorial Hispana: Ninguna
Año Publicación: 2013
Traducido al Inglés: VIZ Media
Reseña: En la Inglaterra Medieval, durante La Guerra de las Rosas, una feroz batalla se disputa entre la casa de York y la casa de Lancaster. El Joven Richard de York está empecinado en ascender a su familia al Trono… Pero el secreto que esconde puede destruir todo aquello cuanto desea.
D E S C A R G A:
Volumen I:
Capítulo 03