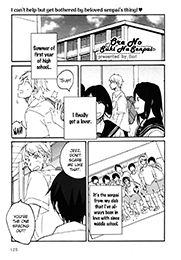 Associated Names: The Classmate I love | The Senpai I love| My beloved Senpai| 俺の好きな先輩
Author: Sari | さり
Genre: BL
Lenght: Oneshot
Related Series: None
Original Publisher: Exposure BL (Charles Comic | Media Soft)
English Publisher: None.
Year: 2015
Joint: U-zai
Rule: Do no re-translate this piece into Spanish, our group is in charge of that already. All other languages, are free to do so.
Summary: I can't help but get bothered by beloved senpai's thing!
DOWNLOAD
Ore no Suki na Senpai – ONESHOT